We hope your September is going as smoothly as a well-optimized server! Are you sitting down? Because we've got some news that will make you jump up faster than a load balancer under stress. 🎢
A Dashboard So Fresh, It Deserves Its Own Runway! ✨
You know how you always have 101 tabs open on your browser, desperately trying to keep track of server metrics, insights, and what's for dinner tonight? Well, consider your life uncomplicated.
We are thrilled to introduce our brand-new, sparkly Dashboard! 🌈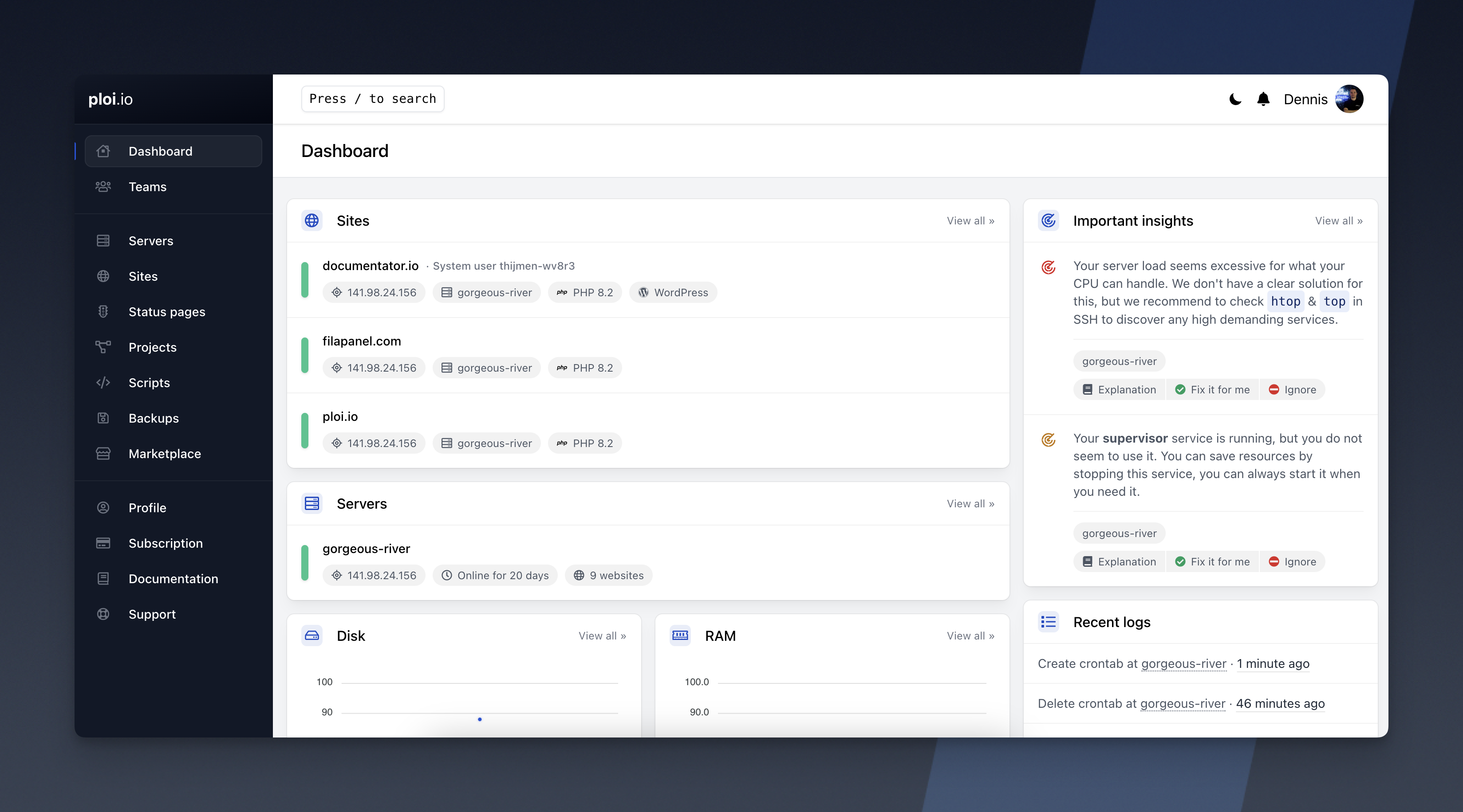 With this update, we've brought everything you care about front and center. Here's a sneak peek into what's waiting for you:
Real-time Insights: No more sifting through logs at midnight. Your key metrics and analytics are now on display, as clear as your love for tech! 📈
Monitoring Details: CPU spikes? Memory overload? Keep tabs on all the action happening on your servers, with details so granular, you can see the 'byte dust' settling. 🖥️
Your Servers & Sites: All your beloved servers and sites are now accessible in one unified view. Talk about putting all your ducks—or in this case, servers—in a row! 🦆
The monitoring, and insights details also come with their own new dashboards, press "View all" at the top right of the card to get a global overview 📊
Meet Our New Worker 🤖
If you're using firewalls, please consult our documentation to find the new IP address to whitelist. This new worker is itching to get to work, but it can't be without your green light!
You can find all our worker IP addresses here: https://ploi.io/documentation/introduction/ploi-ip-for-whitelisting
That's it for this month's update! We are continually awed by this incredible community of developers, tech enthusiasts, and server whisperers. You inspire us to make Ploi better each day.
Have fun exploring the new features and as always, if you run into any issues or have suggestions, our support team is just a click away.
Changelog
[Added] A fresh new dashboard!
[Added] Ability to setup failed notifications for backups
[Added] WordPress admin link if WordPress is installed to the sidebar
[Added] Line numbers to several code editors like NGINX configuration, database configuration
[Added] Ability to proxy docker containers to a site if NGINX and docker is both installed
[Added] Ability to set a project from server settings directly is now possible
[Added] Ability to request tenant certificate via DNS provider is now possible
[Added] Ability to reset site permissions inside manage tab
[Added] New insight if the database service has too many connections and also provides a fix for this
[Improved] Vultr server creation error handling
[Improved] Meilisearch server indexes list isn't limited anymore
[Improved] Latest NGINX version is now being used instead of 1.18
[Improved] When installing a server with database, the force of utf8_unicode_ci is now removed
[Improved] When spawning Laravel Octane, you may now pick workers up to 1000 instead of 500 as max
[Improved] When cloning a database, you weren't able to clone to a database-type server, or vice-versa, this is now possible
[Improved] You may now use 10.000 lines for your docker container config instead of 5000 as max
[Bugfix] SSL request for NodeJS sites when html directory was missing
[Bugfix] When editing database configuration for MariaDB the wrong config file was loaded and displayed
[Bugfix] When adding a DNS record an A record was also accepting IPv6, validation prevents this now
[Bugfix] When adding domain aliases, and you had proxy_ssl_server_name inside the NGINX configuration, it would overwrite that as well, this is now fixed
[Bugfix] Quick deploy delay setting wasn't honored
[Bugfix] When editing a cronjob in a site, it would list all the cronjobs in the server after update has been completed, this is now fixed
Changelog API