We are excited to announce the latest updates, with a focus on Backup Notifications! We've been working hard to improve your experience, and now you can stay informed about your backups more effortlessly than ever.
Backup Notifications: Attach Notification Channels 🔔
With the new Backup Notifications update, you can now attach your notification channels when a backup starts or finishes. This means you'll always be in the know when your backups are successfully completed, giving you the peace of mind that your data is safe and secure.
To set up your notification channels, simply head over to your Ploi dashboard and go to the backups overview. You can attach your own notification channels per backup.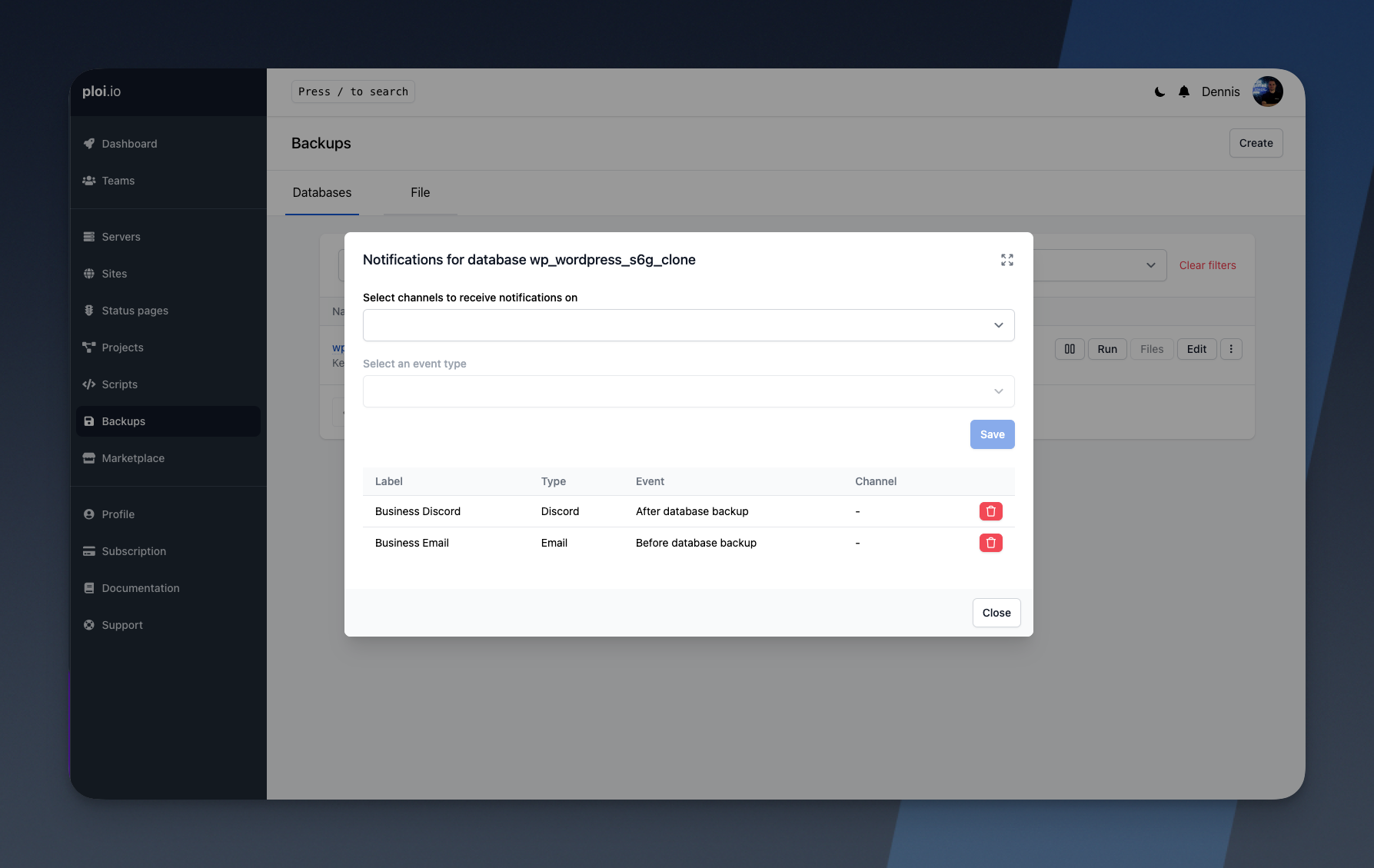 We've also uploaded a video demonstrating: https://www.youtube.com/watch?v=3Dg1Z7uLYw4
Changelog: Packed with New Updates
As always, we are committed to providing you with the best server management experience possible. In our latest changelog, you'll find a treasure trove of updates that enhance Ploi's functionality and make managing your servers & sites a breeze.
Changelog
[Added] Ability to notify when a database backup starts and finishes to your favorite notification channels
[Added] Ability to clone whole databases to another server (database type must match)
[Added] Fresh new chart for server & site monitoring
[Added] Ability to restore database from Google Drive
[Added] Ability to request a chain SSL for tenants (add your own extra domains to your tenant)
[Added] Server column to site file backups in the table
[Added] Czech language
[Added] Ability to update the physical servers hostname when changing the name
[Added] Project specific tabs like Laravel now use the actual site PHP version on the CLI
[Added] Ability to 1-click install a WordPress cronjob & define the interval for that
[Added] Ability for team owners to see pending member invites
[Added] New deployment variable {SITE_DOMAIN} which returns your domain as in ploi.io
[Added] New deployment variable {SITE_COMPOSER} which returns the composer command with the site's PHP version
[Added] When cloning a site, also clone domain aliases and tenants
[Added] Ability to request an SSL certificate based on DNS provider request (Cloudflare, Hetzner, etc)
[Added] Ability to delete a database when deleting a site (if a database was attached to a site)
[Added] Ability to create docker networks from the UI
[Added] Ability to specify additional arguments for the Meilisearch server type
[Added] Site file backups index now also has the new queued, in progress & active badge
[Added] Site file backups are now also notifiable
[Changed] Backup index now has the filters above the table instead of a dropdown
[Changed] Status tab in server is now completely renewed and has reload feature for services that support them
[Changed] Refactored PHP extensions window, you may now also uninstall them
[Changed] Moved to Redis database storage for site uptime monitoring
[Changed] Logic to delete a server from your account, this is more fluent now
[Changed] Databases backup index now shows when it's queued and running
[Changed] Katapult server creations are now faster as it checks on server status
[Fixed] Issue with editing S3 backups in profile
[Fixed] Issue with installing a new PHP version and not being able to reload FPM as Ploi or system user
[Fixed] Issue when creating a server with UpCloud and returned an error
[Fixed] Issue when a team member wanted to install a repository and the installer got stuck
[Fixed] Issue when patching PHP, not all extensions would be patched
[Fixed] Don't allow to add yourself to a team when creating one